Sainsbury's has revealed its 2015 Christmas advert — and brought a beloved children's character back to life.
The festive film shows a calamitous cats who almost ruins Christmas in a series of unfortunate events — and its ending will make you feel all gooey inside.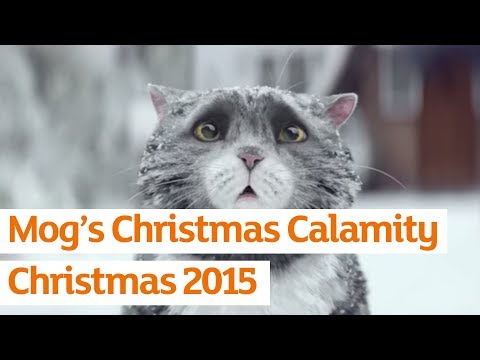 But who is Mog the Cat and why is she the star of the Sainsburys Christmas ad? Read on to find out...
Who is Mog the Cat?
Mog the Cat starred in a series of children's books published between 1970 and 2002. Mog lived with her owners, Mr and Mrs Thomas, and their two children, Nicky and Debbie.
What were the books about?
Clumsy, lovable Mog always managed to get into a scrape or conundrum of some sort with a new character or event in each book. Titles included Mog the Forgetful Cat (1970), Mog in the Dark (1983), Mog's Amazing Birthday Caper (1986) Mog's Kittens (1994) and Mog and the Granny (1995).
Who created her?
Mog was created by Judith Kerr, a German-born British author anD illustrator. As well as the Mog series, she also wrote The Tiger Who Came to Tea and novels for older children includingWhen Hitler Stole Pink Rabbit , about her experiences in the Second World War. She given an OBE in 2012 for services to children's literature and Holocaust education, and the Judith Kerr Primary School, the first bilingual school in English and German, was named in her honour.
What happened to Mog?
Mog died of old age in the final book, Goodbye Mog , published in 2002.
Why has she been brought back for the Sainsbury's advert?
Sainsbury's has teamed up with HarperCollins Children's Books and Judith Kerr to create a special Christmas story starring Mog to raise money for Save the Children and improve child literacy in the UK.
You can buy Mog's Christmas Calamity, written and illustrated by Judith Kerr, from Sainsbury's to support UK literacy work and Save the Children's national Read On. Get On. campaign.
The advert also promotes Sainsbury's Christmas slogan 'Christmas is for sharing'.
What does Judith Kerr make of it all?
In a behind-the-scenes video made by Sainsbury's, Judith says she never thought she'd see Mog in 3D.
"I saw a lovely bit of film where she rolls over," she said. "It's extraordinary and wonderful to see."
She added: "Reading is such a huge thing for children and so anything that can help that I think is terrific, and I thought this was a terribly good idea from Sainsburys."
Last week John Lewis unveiled its 2015 Christmas advert, The Man On The Moon, telling the story of a touching connection between Lily, a little girl with a telescope, and an elderly man living on the moon.
The retailer. has partnered with Age UK to drive awareness and support for some of the million older people who can go for a month without speaking to anyone.
Which Christmas advert is best? Vote in our poll
Which advert is best - John Lewis' Man on the Moon or Sainsburys' Mog's Christmas Calamity?
0+ VOTES SO FAR
READ MORE: John Lewis Christmas ad 2015: Who is the Man On The Moon? Here are five guesses
READ MORE: Store baker Richard Conway is TV star after Morrisons Christmas advert airs